Basic ideas
As various issues related to the global environment such as global warming and abnormal weather, and various social issues such as human rights violations and poverty become apparent, the importance and urgency of efforts to realize a sustainable society are further increased.
We have established our basic philosophy "Ties of Reliability" and have been engaged in CSR activities aiming the coexistence and co-prosperity with society.
In order to clarify our stance of contributing to the global environment and social issues aggregated into the SDGs (Sustainable Development Goals) through our corporate activities, establishing ESG management base was set as a key measure of the current medium-term plan T-2021.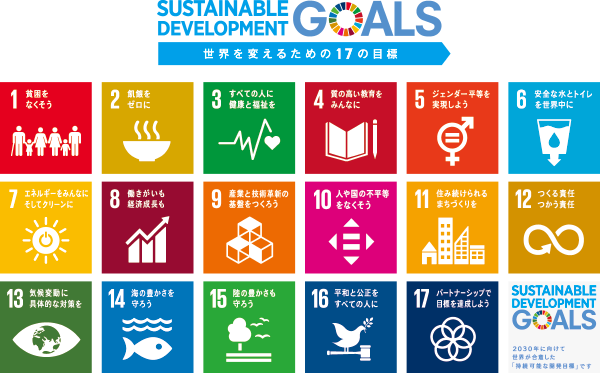 Structure
CSR activities are overseen by the CSR Committee, which is led by the head of the General Affairs Department, Member of the Board and includes responsible members from the Corporate Planning, General Affairs, Human Resources, Legal Affairs, and Environment Safety Management departments. The CSR Committee, generally holds meetings four times a year.The committee is responsible for discussing and making decisions on important CSR related matters, bringing matters before and submitting reports to the Management Committee, and overseeing information disclosure through annual report preparation and other means.
The activities of the CSR committee provide a focal point for PDCA cycles we engage in to achieve prosperous coexistence with each of our stakeholders.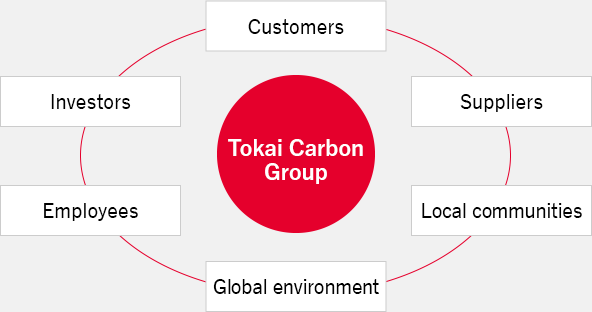 Important managerial Issues (Materiality)
In November 2019, as a first step to establish an ESG management base, we specified our "Materiality" that we should focus on.
In terms of specifying the materiality, we ①identified the issues from the perspective of both Tokai Carbon Group and our stakeholders, ②assessed each materiality, ③discussed those at the CSR Committee which works under the management committee, referring to the opinions of external experts and ④finally, it was decided by resolution of the Board of Directors.
Hereafter, we will sincerely face each materiality, contribute to the realization of a sustainable society, and appropriately disclose the status of its efforts.
Materiality
Materiality(elements)
Harmony with the global environment
Reducing environmental impact
Realizing a recycling-oriented society
Contributing to social issues through business
Tackling technological Innovation
Supplying safe and secured products
Supply chain management
Respect for human rights
Contribution to community
Strengthening our management base
Strengthening Corporate Governance
Ensuring compliance
Human resource development
Promoting Occupational Safety and Health