Chigasaki Plant completed. Began production of carbon motor brushes and carbon rods.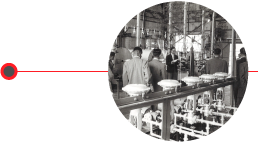 First full-scale production of carbon black in Japan at the Kyushu-Wakamatsu Plant.

Developed SEAST 116, Japan's first industrial-grade carbon black.


Completed TD350, a carbon motor brush with excellent rectification and abrasion resistance, for the main motor in high-speed trains on the Tokaido Shinkansen(Bullet train). Won popularity for use in high-speed rail.