1. Background of T-2018 – Summary of the Previous Mid-Term Management Plan T-2015 –
Changes of Market Condition
Scroll horizontally to view the whole table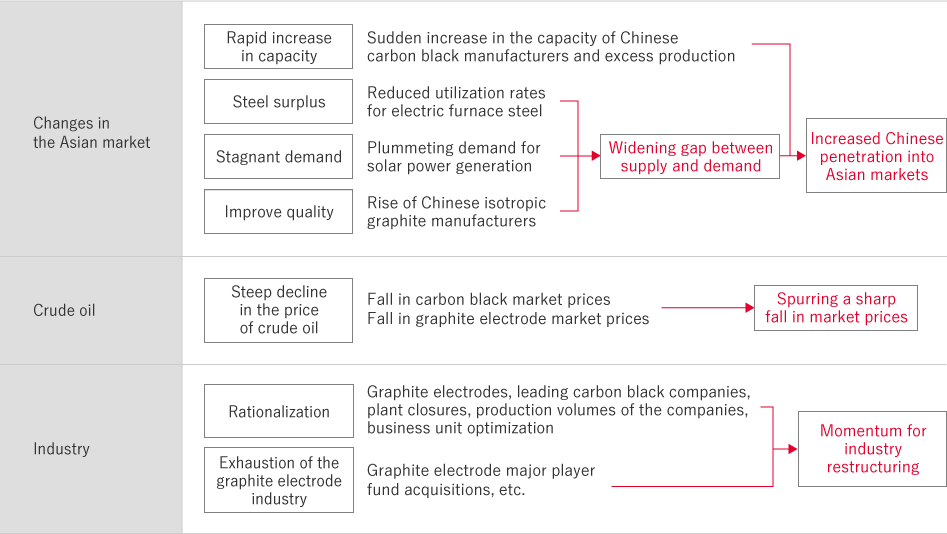 Tokai Carbon has faced the following issues:
(1) Our slow response to bloated business operations that were a result of aggressive capital spending in the past
(2) A failure to put in place the organizational management and human resources development systems we needed to build to support global expansion
(3) Organizational rigidity and overconfidence in our technology We feel that the three years of the previous plan have given us a great deal to think about.
We have learned valuable lessons from T-2015. In the new Mid-Term Management Plan T-2018, we will be implementing comprehensive structural reform based on business restructuring and changing the company's mindset to rebuild the foundation of our business in a return to our first principles.
2. Mid-Term Management Plan T-2018 Basic Policies
T-2018 sets management policies for the three-year period from 2016 to 2018. This three-year period is divided into two phases. In Phase 1 in 2016, the first year of the plan, Tokai Carbon implemented structural reforms. In Phase 2, running from 2017 to 2018, the company went forward with its growth strategy.
Scroll horizontally to view the whole table

| | Key performance objectives for 2018 | (For reference)2015 Performance |
| --- | --- | --- |
| Sales | 110 billion | 104.9 billion |
| Operating Income | 9 billion | 4.1 billion |
| ROS | 8% or more | 3.9% |
| ROIC | 6% or more | 2.1% |
3. Status of progress on T-2018 (as of August 10, 2018)
(1) Numerical targets and business forcast
We have set a target of Sales \110.0 billion, Operating income \9.0 billion, ROS 8%, ROIC 6% in 2018, the final year of the Mid-Term Management Plan. Today, we achieved most of these targets already in 2017 year end. We anticipate 2018 results to be at much higher level.
Both net sales and operating income are projected to substantially exceed the targets.
Scroll horizontally to view the whole table
T-2018 targets
Results & forecasts
Sales
Operating income

¥9.0 billion
ROS 8% or higher
ROIC Target of 6% achieved early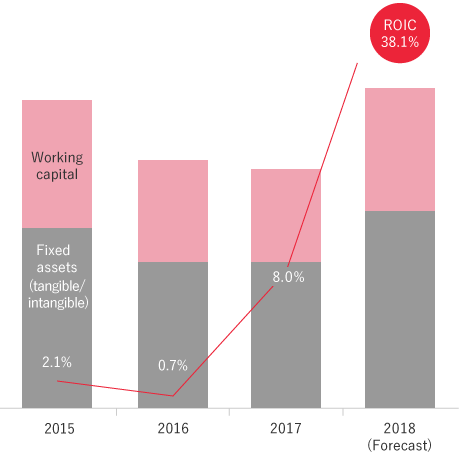 (2) Phase 1 Business Restructuring
During the first year, FY2016 (Phase 1), Tokai Carbon engaged with all the issues assumed by the plan and almost all the plan goals were achieved. The size of the issues that had built up within the company over the years was even greater than had been anticipated. The company is currently booking over ¥10.0 billion in impairment losses for the period and in the end was left with no choice but to post record-setting losses. Nevertheless, the plan has resulted in an improvement in the company's business condition and we were able to streamline the organization to make it profitable.
Business restructuring
Undertook and implemented all the initially scheduled action plans
Item
Measures
Results
i. Optimization of carbon black manufacturing plants
Close one line at Tokai Carbon (Tianjin) Co., Ltd.

Reduced capacity by roughly 40% and reduced the number of personnel
Moved to a mass production structure for specialty products

Close one line at the Ishinomaki Plant
Reduced production capacity by roughly 20%
ii. Structural reforms in the Fine Carbon business
Reduce isotropic graphite production capacity
Reduced production capacity by roughly 45%
Streamline product line-up

Achieved specialization in isotropic graphite, extruded graphite, and carbon brushes
Exited unprofitable products

iii. Optimization of personnel
Offer voluntary retirement for those desiring it, and take other steps
Reduced the number of personnel by approximately 100 people company-wide
iv. Initiatives to address industry restructuring in the Graphite Electrodes business
v. Asset reduction
Reduce inventory
Reduced inventory by more than ¥13.0 bn

Reduce fixed assets
Exit non-core businesses

Transferred idle assets from Tokai Konetsu Kogyo Co., Ltd.
Sold Nagoya Green Club assets, etc.
(3) Phase 1: Changing the mindset internally
Tokai Carbon has implemented a range of strategies to change the mindset internally. We believe the reforms that we have implemented in the decision-making process for business decisions, the human resources exchanges fostered between business segments, and the use of outside human resources have been even more effective than anticipated. We are planning to continue these initiatives. Reforming the mindset internally and further improvements to our technical capabilities involve matters of corporate culture. This is not something that can be done overnight. We will continue our strong engagement with these important issues throughout the remainder of T-2018.
Changing the mindset internally
Implemented various measures. Will continue to work on initiatives for the remainder of T-2018
Item
Measures
Results
i. Energizing human capital
Implement human resources exchanges between business segments
Engaged in exchanges for many GM positions at the business division level
Recruit human resources from outside the company
Extended offers to seven people in total
General Affairs/Public Relations, Accounting, Production Control, Engineering, anode material
ii. Reinstating the right to claim "Tokai, an expert in technologies"
Expand the Technology Division

Pursued synergy between businesses through the Synergy Exploration Committee
Began work on improving productivity by injecting external human resources

iii. Strengthening the corporate division

Reinforce functions of the Board of Directors and the Management Committee
Strengthen governance

Reconfigured the decision-making process
Established the Nomination Committee and Remuneration Committee
Established the Risk Management & Compliance Committee

iv. Other
Engage in internal PR to change mindsets internally
Distributed messages from the president internally
(4) Phase 2 Growth Strategy
In 2016, we focus our efforts on structural reform to build a firm foundation for growth. In 2017 and beyond, we will deploy strategies for growth based on a new foundation consisting of the business restructuring completed in Phase 1 and ongoing efforts to change the mindset internally. Each of the business segments is deploying policies according to their respective potential markets to (1) improve profitability and (2) expand business domains toward the development of policies for our growth strategy. The third approach, (3) mergers and acquisitions, will give due consideration to peripheral business domains regardless of Tokai Carbon's existing business domains. We will optimize our business portfolio and enlarge the company scale in view of the mid- and long-term.
Measures suitable for the external environment and potential market for each business segment
(1) Improve profitability

Graphite Electrodes Business

Reduce manufacturing costs and SG&A expenses more

Fine Carbon Business

Complete execution of structural reform plan
(2) Expand business domains

Carbon Black Business

Expand market sales of high value-added products

Tokai Konetsu Kogyo Co., Ltd.Expand sales of industrial furnaces
Expand sales of heating elements
Friction Materials Business

Expand sales

New business growth

LiB anode material, aqueous carbon black, next generation
(3) M&A

Existing business domains
Expand business segments to include electronic components and automotive-related products
4. Toward T-2018
In the process of the structural forms of T-2018, we had no choice but to slim down our business. In the last phase of T-2018, however, we will be sowing the seeds of a growth strategy. Our efforts will be to ensure steady growth after T-2018. We aim to increase the scale of our business over the mid- to long-term, and toward that end we have set a strategic investment budget of ¥50 billion. This strategic budget allow us the Acquisition of shares in SGL GE Carbon Holding LLC (November 2017) and Tokai Carbon Korea Co., Ltd.(May 2018) that now joined Tokai Carbon Group. Further on, we are now in a process to close the deal of acquiring Sid Ricahrdson Carbon , Ltd (completion of acquisition expected September 2018). The series of these business decision are to stabilize our business portfolio and to expand our business domains.
Shrink :

During the Mid-Term Management Plan, structural reforms were undertaken
which led to constitutional change by improving ROIC.

Grow :

In 2018 and beyond, we will focus on expanding our business domains with the cash generated from
our core business and through financial leverage.
Scroll horizontally to view the whole table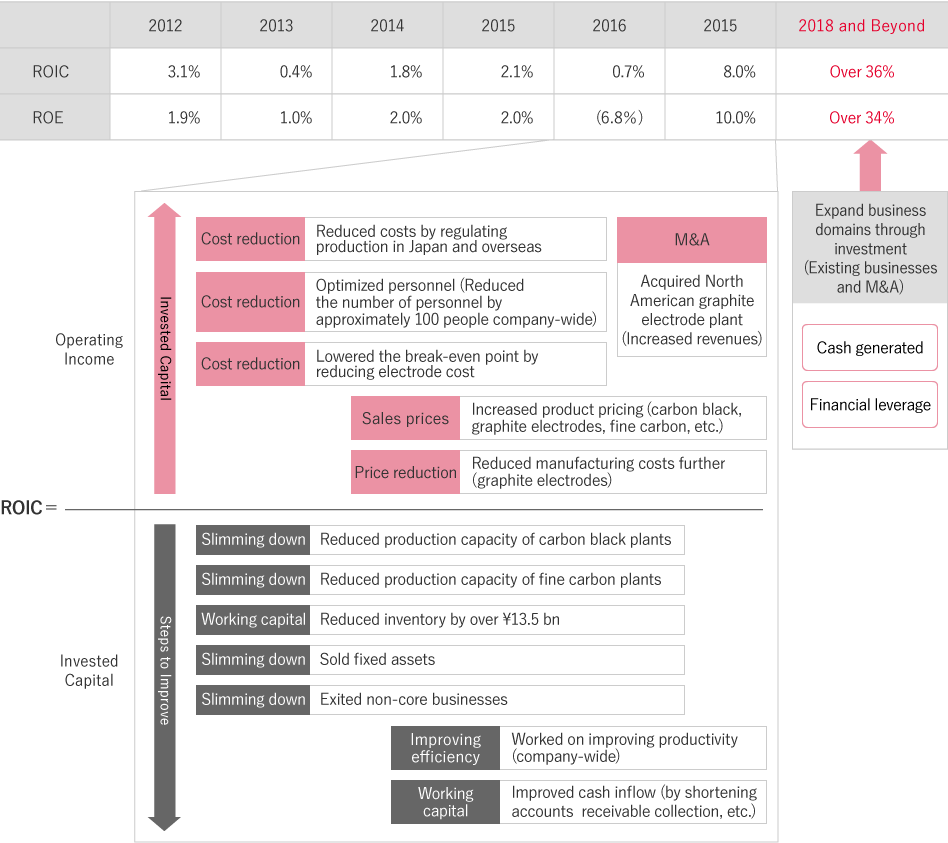 5. Latest performance forecast (As of August 10, 2018)
(Millions of yen)
Scroll horizontally to view the whole table
T-2018 Target
(For reference)
2015
2016
2017
2018(Forecast)
Net Sales
110,000
104,864
88,580
100,000
214,000
Operating Income
9,000
4,088
1,131
10,500
74,000
Net Income Attributable to
Owners of the Parent Company
-
2,484
(7,929)
10,800
74,000
ROS
8% or higher
3.9%
1.3%
10.5%
34.6%
ROE
-
2.0%
(6.8%)
9.3%
51.4%
ROIC
6% or higher
2.1%
0.7%
8.1%
38.1%
Depreciation and Amortization
-
9,242
8,124
6,500
7,500
Capital Investment
-
5,301
6,013
4,500
17,000
Inventory
-
34,253
20,734
-
45,000
Tangible and Intangible
Fixed Assets
-
96,106
81,178
-
106,000